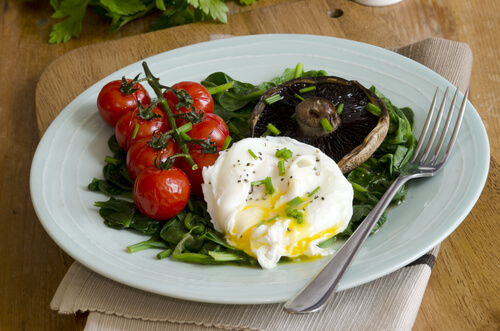 Eating low-carbs (or ditching them altogether) was made popular by the Atkins diet and other similar diet plans. They are famous for shedding pounds quickly, but that's not the only benefit these diets provide.
They are also a great way to control blood sugar and insulin levels, they have been found to improve cognitive function, they lower the risk of heart disease, and low carb diets can even reduce the risk for certain types of cancer.
Switching to a low carb diet can be tricky though, especially for the first meal of the day. From bagels to pancakes and even cereals, there are so many breakfast foods that are packed with carbs. If you're looking to ditch or reduce the number of carbs you're eating in the morning, you're in luck! – There are plenty of low carb breakfast choices. Here's a look at 10 recipes that you should consider trying.
1. Eggs, spinach, and yogurt cooked in a skillet
This recipe is low in carbs and packed with protein. Ingredients include garlic, butter, Greek yogurt, scallions, spinach, lemon juice, chili powder, and of course, eggs. To make, preheat your oven to 300 degrees.
Mix garlic and Greek yogurt in a bowl and set to the side. Melt butter in a skillet and add leeks and scallions and cook until soft. Add in spinach and lemon juice, cooking until the spinach leaves are wilted. Crack eggs and put them over the spinach mixture, taking care not to break the yolks. Bake the spinach mixture and eggs for about 10-15 minutes.
Remove from oven and spoon yogurt mixture over top. Melt butter and chili powder and drizzle over the top of the dish. The protein from the yogurt and eggs in this low carb breakfast will keep you full until lunch.
2. Apple and brie crepes
The sweetness of apples coupled with the rich taste of brie makes this low carb breakfast choice absolutely delectable. Ingredients include cream cheese, eggs, baking soda, sea salt, an apple, and brie.
To make the crepes, mix the cream cheese, eggs, baking soda, and sea salt together in a blender until smooth. Heat a small pad of unsalted butter in a pan on medium heat. Pour about a cup of the crepe batter into the pan, swirling it until it's in a circular formation and thin.
Allow the crepe to cook until the top appears dry and flip gently, cooking the opposite side for just a few seconds. Remove the crepe from the pan and repeat the process until all batter is used. Slice an apple and brie cheese and arrange a few slices of each in the center of each crepe and roll-up.
3. Pancakes made from cream cheese
If you love pancakes but don't want to eat all the carbs that they pack, give this version of the breakfast favorite a try. Ingredients for this recipe include cream cheese, eggs, cinnamon, and powdered sugar.
To make, place all ingredients in a blender and mix together until it is smooth. Allow the batter to rest for a few minutes until any bubbles that form in it settle. Melt a small pad of unsalted butter in a pan.
Pour a small amount of the batter into the pan so that it forms the shape of a circle. Cook for 2 minutes until it is golden in color, flip the pancake, and cook it for 1 minute on the other side.
Repeat the aforementioned process with the rest of the batter. Serve with fresh honey, sugar-free syrup, and some fresh berries, if you would like.
4. Avocado, bacon, egg, and tomato salad
This recipe isn't exactly a salad, but it is certainly low in carbs. It is also extremely quick and easy to make, so it's the perfect choice for those who are in a rush in the mornings but don't want to rely on high carb choices.
To make it, all you need is a ripe avocado, 2 hardboiled eggs, a medium-sized tomato, up to 4 slices of bacon (crumbled or in strips), and salt and pepper. Chop the eggs into small pieces, remove the avocado from its shell and slice it, cut the tomato into wedges, and if you're using bacon strips, cut them into small pieces.
Mix all of the ingredients together, but use caution to avoid turning it into mush. Once mixed, slice a lemon and squeeze the juice over the top of the mixture. Sprinkle with salt and pepper.
5. Low carb waffles
Another popular and oh-so-tasty breakfast food is waffles; however, despite their deliciousness, they are loaded with carbs. With this recipe, you don't have to give up waffles, because it is low in carbs.
The ingredients for this breakfast recipe include egg whites, coconut flour, milk (unsweetened cashew or almond milk are great options), baking powder, sweetener (stevia is a healthier alternative to sugar). To make these low carb waffles, whip some of the egg whites until they form into peaks.
Stir in coconut flour, milk, sweetener, baking powder, and the remainder of the egg whites. Mix together until well blended. Set waffle iron to its highest setting and let it heat up. Spray the waffle iron with nonstick cooking spray (an extra virgin olive oil variety is a good pick). Pour batter into the waffle iron until it is full. Cook until golden brown.
6. Crunchy chocolate cereal
The majority of breakfast cereals have a lot of carbs, but since it's such an easy breakfast to put together, it's often one of the best options for people who are in a rush in the mornings.
You don't have to sacrifice your diet to have a quick breakfast option, thanks to this crunchy chocolate cereal. The ingredients for this low carb cereal include flaxseed, chia seeds, slivers of almonds, shredded coconut, stevia, and dark chocolate chunks. Making this cereal is just as easy as making any other type of breakfast cereal.
Simply mix together all of the ingredients in a bowl, and that's it! If you would like, you can top it with some of your favorite low carb milk (unsweetened almond or cashew milk is always a great choice.) If you don't want to put all of the ingredients together in the morning, make it ahead!
7. Fresh berries and Greek yogurt
A breakfast of strawberries, blueberries, blackberries, and raspberries are an excellent way to start the day. Not only are they sweet and delicious, but they contain virtually no carbs and they pack a ton of vital nutrients, including vitamin C, vitamin K, manganese, phytochemicals, potassium, antioxidants, fiber, selenium, and phosphorous.
They are also low in calories, which is another great reason to add them to your diet if you're trying to watch your weight. For this breakfast, the ingredients are really straight forward; all you need is your favorite berries and some plain Greek yogurt. If you would like to add some more sweetness, you can also bring some stevia into the mix.
To make this low carb breakfast, simply wash your berries. Remove the green from the strawberries and slice them. Mix all berries together with Greek yogurt. Sprinkle on some stevia and enjoy it.
8. Low carb granola and Greek yogurt
This is another low carb breakfast food recipe that features Greek yogurt. Greek yogurt is packed with protein, so it will keep you full throughout the morning and it aids in digestion, so it definitely helps with weight loss.
To make this breakfast low carb, make sure you choose a type of granola that is low in carbs.
Read the labels, as a lot of commercially produced granola is laden with carbs and sugars, which you definitely don't want. To make this breakfast, just mix a half a cup of granola into a 1 ½ cups of plain Greek yogurt (a lot of varieties of flavored Greek yogurt are full of sugar, so you want to avoid them if you are trying to lose weight.)
If you would like to add some sweetness, add some stevia into it or some fresh organic honey.
9. Cauliflower hash browns
Traditional hash browns are made of potatoes, which are infamous for their high carb content. However, this recipe for hash browns replaces the potatoes with cauliflower, making it a low carb option.
To make it, you will need cauliflower, eggs, a yellow onion, pepper, salt, and butter. Start by rinsing, trimming, and grating the cauliflower. Put the grated cauliflower into a large bowl. Dice half of the yellow onion and mix it into the cauliflower.
Beat eggs and mix them into the cauliflower and onion mixture. Melt a nice sized portion of unsalted butter on medium heat in a skillet. Using a spoon or an ice cream scooper, place the cauliflower mixture into the frying pan and flatten it until it forms the shape of a pancake. Fry the cauliflower pancake for about 4 minutes on each side. Top with a pinch of salt.
10. Scrambled eggs
This classic breakfast dish is a great choice for a low carb breakfast, as eggs are naturally low in carbs and high in protein, so they will keep you satiated throughout the morning, aiding in your weight loss goals. To make perfect scrambled eggs, crack two eggs into a bowl and whisk together until well blended.
If you would like, you can add in a pinch of salt and pepper. You can also add in some unsweetened almond milk to make the mixture frothier and the eggs fluffier. Melt a pad of unsalted butter in a non-stick skillet over medium heat.
Pour the whisked eggs into the skillet and stir fry them for a few minutes until they have a creamy, fluffy consistency. You can eat your scrambled eggs alone, or if you would like, you can serve them with a low carb side, such as bacon or sausage.