Carbs are the main fuel source for the body. In other words, your body needs them in order to function. However, not all carbs are created equal. Simple carbs – those that are found in veggies and fruits – are good for the body; however, complex carbs – those found in refined foods, such as white pastas and sodas – are bad for the body. Why? – Because when they are digested, they are stored as fat. Low carb diets focus on eliminating or reducing complex carbs to shed weight, and these diets can be highly effective. Unfortunately, many desserts are loaded with complex carbs.
Fortunately, you don't have to completely give up desserts if you are on a low carb diet. With some changes, you can still enjoy your sugar fix. Here's a look at 30 decadent low carb desserts that are sure to tickle your sweet tooth without packing on the extra pounds.
1. Cinnamon apples with vanilla sauce
Apple pie is delicious, but it's also loaded with carbs. This dessert has a taste that's quite similar – if not better – than apple pie, but it has a fraction of the carbs. To make it, you'll need heavy whipping cream, unsalted butter, vanilla extract, and egg yolk. Combine whipping cream, vanilla, and butter in a pot on medium heat, bring to a boil, reducing heat and letting it simmer until it becomes creamy.
Remove from heat and whisk in yolk and set in refrigerator to cool. Whisk in more whipping cream into the mixture and refrigerate again. Core and slice apples and heat in frying pan with butter until they become golden brown. Top the apples with cinnamon. Remove the cooled vanilla cream sauce and place a few scoops on top of the warm apples for a low carb version of apple pie.
2. Fresh berries and whipped cream
This is one of the easiest low carb recipes on this list. Berries contain carbs, but the simple variety that is stored for energy and aid in digestion (plus, they offer tons of vitamins and nutrients that are essential for your health.) To make this recipe, all you need to is a collection of your favorite fresh berries – strawberries, raspberries, blueberries, or blackberries. You can use them all if you wish. Simple wash the berries and rinse.
If you are using strawberries, remove the green stems and slice them into four pieces. Place the berries in a bowl and set them aside. To make the whipped cream topping, place heavy whipping cream in a bowl and add in a dash of vanilla extract. Whip the heavy cream and the vanilla extract until it becomes thick. Dish cream over top of the fresh berries.
3. Decadent chocolate mousse
There's nothing quite as decadent as chocolate mousse, but the traditional version is loaded with carbs. This recipe is just as rich and tasty but contains few carbs. To make it, you'll need coconut milk, cocoa powder, and vanilla extract. Allow the coconut milk to chill in the refrigerator until the cream separates from the coconut water.
Carefully scoop the cream out of the water and set it in a bowl (hold onto the coconut water for something else). Add vanilla to the coconut cream and whisk until it becomes thick. Add in cocoa powder and whisk again until all ingredients are well blended and the mixture has a thick, mousse-like consistency. Place in bowls and enjoy! If you'd like, you can also freeze the mousse to make a refreshing ice cream-like treat. You can also top the mousse with fresh berries or homemade whipped cream.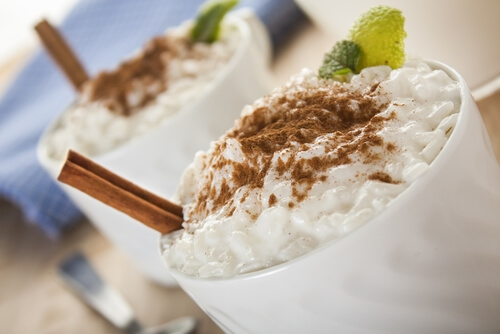 4. Creamy rice pudding
Think rice pudding is high in carbs? Think again! When you prepare it using the following ingredients, by removing the rice, you can enjoy a low carb dessert that's utterly delicious and tastes just like the real thing. To make it, you'll need cottage cheese, vanilla extract, heavy whipping cream, and ground cinnamon.
If you would like, you can also add fresh berries for a topping. Start making this dessert by whipping the heavy cream until it forms peaks, then add in the vanilla extract and whip again. You can also mix in the cinnamon or just sprinkle it on top. Fold the cottage cheese into the mixture but use care, as you don't want it to be mixed too much. Place the mixture in the fridge and allow it to settle for about 10 minutes. Top with berries or even chocolate shavings and serve.
5. Gingerbread flavored crème Brulee
The original version of crème Brulee is so creamy and decadent, but it's also packed with carbs. If you are on a low carb diet, make this version with gingerbread flavoring to avoid packing on the pounds. For this recipe, you will need heavy whipping cream, vanilla extract, pumpkin pie spice, and egg yolks.
Start by preheating your oven to 360 degrees. Crack the eggs, carefully separate the yolks, and put them into separate bowls (you only need the yolks for this recipe.) Combine whipping cream, pumpkin pie spice, and vanilla extract in a saucepan and bring all three to a boil.
Whip the warm cream mixture into the egg yolks, adding a bit of cream at a time. Place the mixture into heat-proof dishes and set inside a larger dish with a small amount of water in it and bake for around 30 minutes.
6. Fluffy lemon cheesecake cream
This fluffy, creamy dessert features the refreshing taste of lemon and tastes great on its own or when paired with fresh berries. The best part is that it is low on carbs. The ingredients for this low carb dessert include heavy whipping cream, cream cheese, fresh lemon juice, vanilla extract, and just a pinch of salt. Combine the heavy whipping cream and the cream cheese in a bowl and mix with a hand mixer until it becomes fluffy and smooth.
Pour in lemon juice, vanilla extract, and salt and whip again until the mixture is well combined and smooth. If you'd like, you can add in some erythritol for sweetness. Place the smooth, fluffy mixture into the refrigerator for at least 30 minutes before serving. The creamy fluffiness of this recipe resembles the texture of cheesecake without all of the carbs. Serve with fresh berries.
7. Chocolate coconut pudding
The combination of chocolate and coconut is so rich and satisfying. This recipe is so decadent that you'll swear it's packed with carbs, but it isn't! It's low in sugar and completely free of dairy. For the ingredients, you will need coconut milk, egg yolks, 70 percent dark chocolate, and a teaspoon of vanilla extract.
Combine coconut milk and yolks in a saucepan and place over medium heat, making sure to whisk continuously as you combine them. Allow the mixture to simmer for 10 minutes, stirring continuously. Break up the chocolate and place it in a bowl. Pour the vanilla extract and the coconut milk mixture on top of the chocolate.
Allow it to stand until the chocolate melts. Whisk all ingredients together until well combined and pour into glasses or small bowls. Put the glasses or bowls into the refrigerator and allow them to chill.
8. Chocolate fudge
Without a doubt, chocolate fudge is one of the most tempting and decadent treats in the dessert world. Unfortunately, traditional varieties are also very high in carbs. If you love chocolate fudge and you're on a low carb diet, you won't feel guilty about indulging in this recipe. You will need heavy whipping cream, vanilla extract, butter, and dark chocolate with at least 70 percent cocoa solids.
To make it, place the heavy cream in a saucepan and bring to a boil over high heat. Once boiling, reduce heat and let simmer until it reduces to about half the original amount, stirring occasionally. Reduce heat, add room temperature butter, stir until it becomes smooth and remove from the heat.
Stir small chunks of chocolate into the mixture until completely melted. Pour chocolate cream cheese mixture into a baking dish and allow it to cool in the refrigerator.
9. Dairy-free vanilla custard
This vanilla custard is completely free of dairy, yet it's just as creamy as recipes that include dairy. And of course, it's low in carbs. Ingredients for this low carb vanilla custard include egg yolks, vanilla extract, almond milk (unsweetened), and coconut oil or unsalted butter.
You can also include Stevia for added sweetness. Place the egg yolks, vanilla extract, and almond milk into a bowl (Stevia, too, if you're using it). Whisk all ingredients together. Melt the coconut oil or unsalted butter and pour into the mixture.
Make sure that the butter or oil isn't too hot, as it may cook the eggs. Simmer water in a saucepan and set the bowl containing the mixture on top of it. Constantly whisk the mixture until it thickens, which should take about 3 minutes. Place custard in small bowls and serve it either warm or chilled.
10. Chocolate cake
Chocolate cake is another rich and delicious dessert, but traditional varieties usually contain tons of carbs. This recipe removes the flour, reducing the carb content, but you'll never miss them. Ingredients include dark chocolate with a minimum of 70 percent chocolate solids, butter, eggs, vanilla extract, and salt. Preheat your oven to 330 degrees. Grease the inside of a springform pan with butter. Break the chocolate up into small pieces and dice up the butter.
Place both in a double boiler and melt, stirring often. Separate egg white and egg yolks and place them in separate bowls. Add a pinch of salt to egg whites and beat until it forms peaks. Pour vanilla into egg yolks and whisk. Pour the chocolate and butter mixture into egg yolks and mix. Fold in the egg whites and pour the batter into the springform pan. Bake until the center isn't runny.